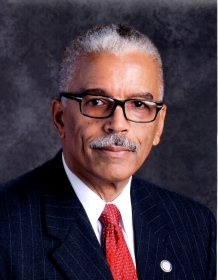 Dr. James Alvin West
P.O. Box 3194, Peachtree City, Georgia 30269
770-362-7165(Business Cell)
jwestministries@aol.com-www.westministries.org
Objective:
To provide strong support to corporate leadership and quality support complimentary to the overall operational objective of the organization.
Accomplishments:
2006-2011 James worked as Personal Assistant to the Attorney General for the State of Georgia.
2009 the Doctoral Dissertation entitled "The Interpersonal Dimensions In Facilitating The Spiritual Formation of Teenagers" was published.
2009 Dr. James West and his bride DeEtta were inducted into the Martin Luther King Jr. Board of Preachers of Morehouse College.
2011, James and his wife were selected by the Atlanta Tribune Magazine as one of Atlanta's "Most Powerful Couples."
2014 Published Messages With A Meaning (James West Ministries Publishing/Bookstand Publishing) Dealing with the relationship between those who are Leaders and those whom support Leadership.
2017 Received the National Achievement Award from President Barack Obama. Received Special Congressional Recognition from John Lewis, United States Congress
Education:
University of Redlands in Redlands, California, BA Degree in Speech and Drama, minored in Religious Psychology and Public Education 1972.
Colgate-Rochester Divinity School of Rochester, New York, received a Masters of Divinity Degree in Theology 1975.
University of Rochester Medical Center, received a certificate of completion in a study of Clinical Education 1975
The Kings University of Van Nuys, California received the Doctorate of Ministry degree 2009.
Experience:
Personal Security & Protection for the State Attorney General of Georgia Performed services that assured the Attorney General a high level of comfort and security while performing his duties.

Professional Security(Personal Security, Corporate Security, Local Business Protection)21 plus years

Professional Ministry (Pastor, Asst. Pastor, Rescue Mission/Police Chaplain) 45 years

​​​​​​

Adjunct Professor (University/College Level)- 10 years of experience

Higher Education (Teacher-Sub, Adjunct University Professor, University Counselor) 35 years
Commentaries/Endorsements
Doctor West proved himself to be an anointed and skilled communicator of the Word
Dr. Henry Colin Kirby BTH. MA Leadership, DMin., Founder of Eden Ministries, Cape Town, South Africa.
"Rev. James West has managed to do the unthinkable." "In a very simple context, Rev. West gives you the Word with supporting references—and the meat of the sermon while leaving you with food for thought. It is easy reading and, at times, humorous!" Reverend Jordan Allen, Faithful Central Bible Church of Inglewood, California
"Dr West has made a very valuable contribution in his book. At a time when the world appears so uncertain and fragile, he reminds us of the eternal hope there is in the powerful word of God." Lord John Taylor of Warwick (House of Lords-London, United Kingdom)
"What do you do when you've become full of messages that you've prepared down through the years for pastors, kingdom leaders, marriage and family persons, kingdom servants, men, women, seniors and youth? You do what Dr. James West did...place them in one book and make them available stateside and abroad. You give men and women an opportunity to glean from your life experiences as you challenge and encourage them to fulfill their dreams and visions.
Dr. Wanda, (Minister & Author)
"Dr. James Alvin West always provides rich content, courageous, colorful and clear presentations that energize students to learn and do their very best," Rev. James Perkins, Pastor at True Friendship M.B.C., in Inglewood, California
"He passes the message of the cross out with conviction and passion," Pastor Anu Ojo of Lagos, Nigeria
Rev. James West is a knowledgeable Man of God. His teachings are bible based and inspirational. Pastor Victoria Oyegunle CAC God is Love, London, England
Hearing Dr. James West deliver real expository teaching in this age of the all inclusive, non-offensive, and motivational is nothing short of refreshing. Charles A. Campbell Senior Pastor/Founder Koinonia Evangelistic Center Moreno Valley, California
Dr. James West has is a highly valuable asset to our organization as he instructs, mentors, and trains students. During the time I have known Dr. West, I have known him to be a man of the utmost integrity and determination. He maintains high quality of character through his communication skills of being proactive. Dr. West has a profound ability to form positive relationships with those he meets. He brings out the best within them. Dr. Misty Grant President Logos University